Swing roller dedicated whetstone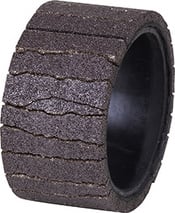 Product features
Smooth finish with a 50 mm wide roller whetstone! The corners of H steel are also sharply polished!
Swing roller dedicated grinding wheel *Please use with a specialized machine.
Use
A state-of-the-art tool for exterior, painting, and peeling steel black skin!
Smooth finish without unevenness.
*Store in a place free from direct sunlight and humidity.
*Please wear safety protection when working.
Spec.
Product code

Size

Maximum usage speed (m / min)

packing

small box

Big box

2708330031
95Φx50W
1,620
5 pieces
50 pieces
Exterior